The 50th Anniversary of the Eagle lunar module landing on the moon's surface will be on July 20, 2019. I thought it might be nice to collect various events, memorabilia, and what not in one thread. Please let everyone know if you spot something interesting - tv shows, collectibles, etc.
To start with, Balsa Machining Services (BMS) re-released Peter Alway's 1/195 Apollo Saturn V kit. Sadly, they have sold out but you may be able to find one somewhere.
Later this year, or maybe early next year, Estes are releasing another version of their Saturn V kit: the 1/100 Apollo 11 Saturn V. According to the
Estes 2018 catalog
, it will have a "'bonus' you won't want to miss".
If you zip down to the menswear department at Kmart soonish, you may be able to pick up a t-shirt with this picture of Buzz Aldrin on the front in black-and-white, and the Apollo 11 mission patch on the left sleeve.
And to commemorate the 40th anniversary of the first moon landing, The Royal Australian Mint released a special 50 cent piece. I'm really hoping they do something for the 50th anniversary, too.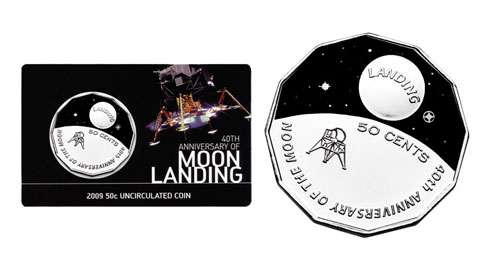 So, is anyone building or collecting anything for the anniversary? I did manage to get one of the Alway models and will be all over the Estes release when it happens. Contemplating buying LJ I and LJ II models, too. Whether I get around to actually building any of them remains to be seen.