So I'd seen the Tip to tip fin construction method mentioned repeatedly in various build threads, photos of before and after but very little on how to actually do it. So over the weekend I figured that I would try to work it out, in preparation for some projects that I'm planning that will need it, I mean how had could it be.
So I started with the Drag Queen Kit that I got for Thunda but never got built and subsequently flown due to a certain dust storm on the Friday night. This has blue tube airframe and 1.6mm (1/16") G10 fins. So I started by roughing up all the components with sandpaper, then tracking on the fins with 5 minute Araldite and then mixed some 105/205 West systems (yes its that cold in Gippsland VIC) and added some 403 filler and added fillets smoothed out with some small plastic conduit.
At this stage I was pretty happy with how it was going. I cut out appropriately shaped pieces of 175gsm FG cloth, wet down the areas of body tube and fins that required it and... that is where it started to turn into a ripe mess. and then it got worse. I didn't take photos because it has nothing to do with How To and a lot to do with what not to do. Fortunately I sanding attachment for my angle grinder which with some work has salvaged something from the mess that with a stack more sanding by hand will be flyable, however I would recommend that no one do what I did.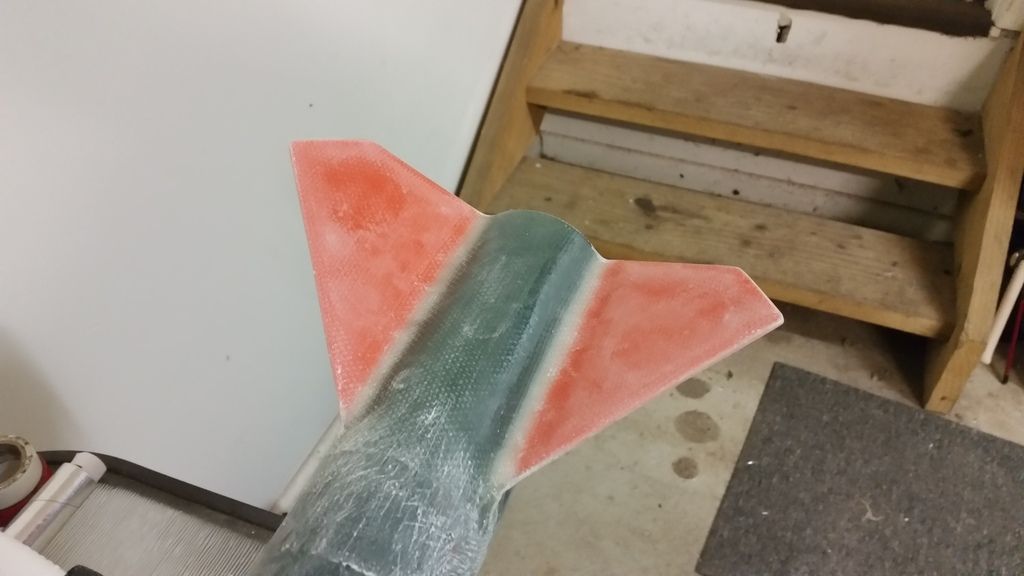 What went wrong? Lack of Peel Ply, Lack of Patience, Lack of any idea what I was supposed to be doing. In the past when I have fiberglassed something (like patching a surfboard) I wet down the area, wet the glass to be applied and then lay the wet glass over the area and then worked any small air bubbles out with a brush, I tried to do this but it didn't work the way that I wanted it to.
So after making a mess I went looking for a better way it do it, and I found this