As a lot of you know, I'm currently studying an engineering degree at uni. I'm at the point where I need to complete my internships. I found out about research scholarships at ANU in Canberra and applied for a project working on high-altitude balloons. I figured I already have experience with flight computers, telemetry and recovering payloads from high altitudes and in finding them in the bush. This should be fun and achievable. My application was successful and I found myself working in the electrical engineering section of the commercial arm of the Research School of Astronomy and Astrophysics at Mount Stromlo Observatory. They are called the Advanced Instrumentation and Technology Centre.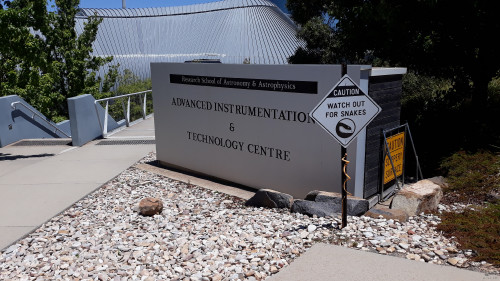 When I applied I didn't really have much idea about the place I was walking into, but the AITC develops instrumentation for telescopes and optical devices that are used both terrestrially and launched into space. To that end, they have a space testing facility!
This is the Wombat XL, a space simulation chamber. It is used for testing their own gear, as well as available for other companies to hire. There is also an anechoic chamber to provide an electrically silent environment, and a vibration test bed (not pictured).
It's also a pretty place to be with old buildings and nice views (when there's no smoke).
So, I got to work on a high-altitude balloon project. It's basically a weather balloon with a parachute and light payload attached. The payload has variously carried spectrographs, reflectors for testing guide star tracking, and some school outreach projects. The flight computer consists of a Raspberry Pi Zero using a Pi-In-The-Sky hat for GPS and telemetry. I was doing some Python programming of a cut down feature. Just like in rocketry, the high-altitude balloon requires a CASA instrument and it is given an approved area to fly in. The feature I was working on was designed to assist in preventing flying out of the approved area in the event the balloon doesn't burst (and to get the payload back!).
We got to do a flight on 20th December 2019 (Friday before Christmas). We had two flight computers on board. One reported an apogee of 33,580.1m, and the other was 33,612.2m.
Here are the GPS NMEA sentences from the apogees.
Code: Select all
Primary
$GNRMC,013147.00,A,3503.77225,S,14855.88482,E,30.058,262.07,201219,,,A*58
$GNGGA,013147.00,3503.77225,S,14855.88482,E,1,09,0.91,33580.1,M,13.1,M,,*52

Backup
$GNRMC,013153.00,A,3503.77371,S,14855.82648,E,20.716,271.65,201219,,,A*59
$GNGGA,013153.00,3503.77371,S,14855.82648,E,1,08,1.69,33612.2,M,13.1,M,,*55

I know it's not rocketry, but this is an altitude PB for me regarding a project I have been involved with.
The next few photos are from the onboard camera. They are a bit reddish as the wrong lense was attached. You can see how much smoke was in the area from the bushfires.
This is a photo from just prior to apogee.
This is during the descent and is looking down at Canberra and Lake Burley Griffin.
This is the last airborne photo, just prior to landing.
We also flew a GoPro 360 degree camera. Check out the footage on youtube. You can use the controls in the top left corner to look up, down, and around.
https://www.youtube.com/watch?v=BKA2RC3Uu2E
Of course, we were tracking the flight and straight after launch we jumped in the car and headed toward the predicted landing zone. The ballooning community have some interesting tools, including landing prediction. Check out this link. You can click on the red dots to see the predicted flight path and where the balloon is expected to burst.
http://predict.habhub.org/hourly/stromlo/
We also had some decent tracking gear. We had our own stationery, ground based tracking system. This has pan/tilt control. We used the predictions to preset it to point in the direction we expected to fly.
We also had a mobile tracking station in the car.
So, the chase was on. A normal flight lasts around 2 hours (around 90 minutes up, 30 min down). We headed out of Canberra and waited. We got a reasonable fix and we're sure it flew over our heads as it was coming down, but the smoke made it impossible to visually track the parachute. We ended up knocking on a few doors out in the boondocks and everyone was fine with us going for a look. Eventually we found it surrounded by cows.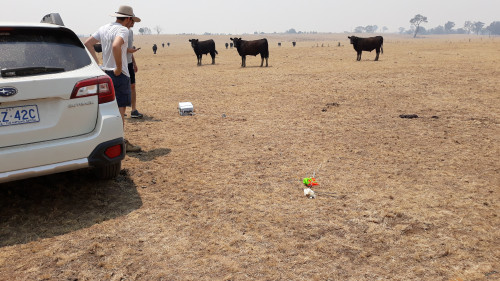 So we took our photos and were bundling it all up to put back in the car. I picked up the parachute and it was all scrunched up and wet. I dropped it and asked "Should the parachute be wet?". "Yeah, a bit due to condensation etc etc". "Um, OK?". Next minute one of the other guys picks it up and immediately drops it, "Ugh, it shouldn't be THAT wet!". We're pretty sure one of the cows had a go at eating it. We quickly packed up and headed to the pub so we could "wash our hands".
After New Year I also got to take part in an observatory tour of the Siding Spring facility near Coonabarabran, and to the Parkes Radio Telescope.
This is outside the 3.9m telescope building. It's 50m tall. You don't realise the size of it until you look at the cars parked at the bottom.
We also got to walk around the catwalk that is at the top of the cylindrical part where it joins the dome. The Warrumbungle ranges are beautiful.

The telescope itself is quite impressive. Apparently the 3.9m telescope is the largest optical telescope in Australia. Inside the dome, it looks like Xavier's chamber in the X-Men.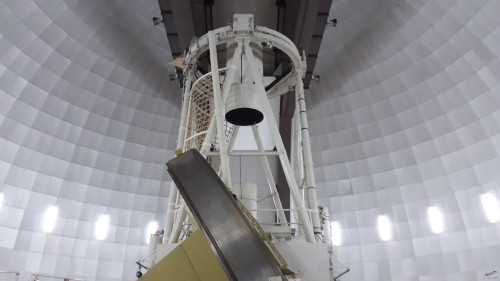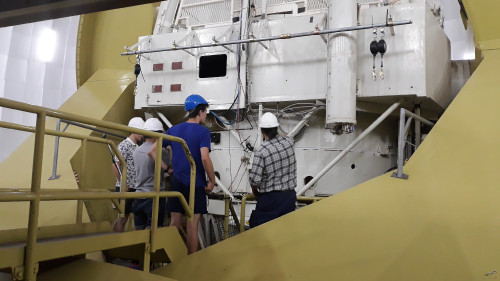 The engineer that was showing us around also does checks to make sure everything was ready to go for the astonomers that night (who all mostly work remotely). He fired up the console and we were out on the platform while he rotated and tilted the telescope. It was very cool.
The telescope also has a number of top-ends that they can change out for different scientific observations. They are lifted on and off with a crane that is at the top of the dome. This one is called the 2DOF. It has a pick and place style robot that moves 400 optic fibres with magnetic heads into place. If you imagine a photograph, specific elements are in certain places not all mashed together. In the case of the incoming starlight, the individual stars in a field will be in certain places so they can put a specific fibre in that place with high accuracy and take up to 400 observations simultaneously. It is also double ended - while one end is taking observations, the robot is placing the fibres again for the next readings. It then rotates and starts again. The AITC group I was working with have developed an even more advanced version of this called the Starbug. The fibres actually "walk" themselves into place.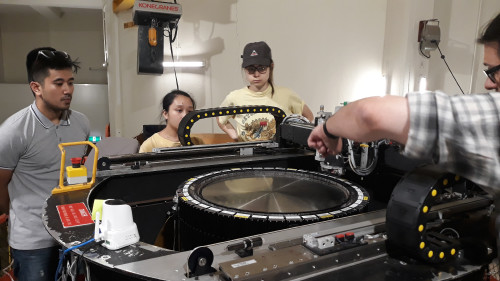 This is below it. That is the optic fibre bundle that gets run down from the top of the telescope and connected into the recording equipment.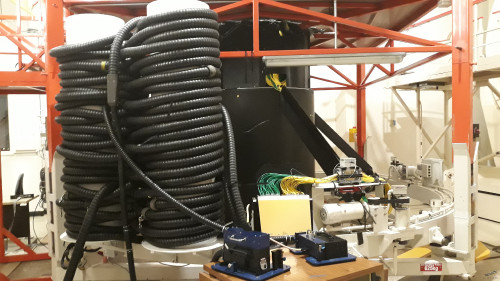 This was the telescope control desk. Sorry for being slightly blurry. My phone camera was struggling in the low light.
Nek minnit, we were off to Parkes!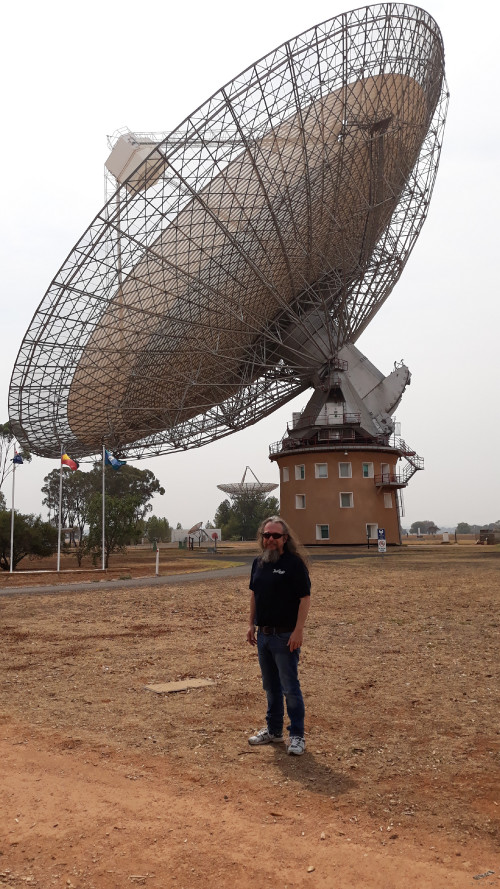 We were really fortunate to have been given a tour by one of the astromomers. Yes, after nearly 60 years of service the Parkes Radio Telescope is still actively performing observations. While we were onsite, they were observing pulsars. They would look at a section of sky for around 20 minutes, then move to the next.
It's a grand old building. The radio telescope is a roughly 1000 tonne load. As such, there's a central support structure that can been seen in these pictures.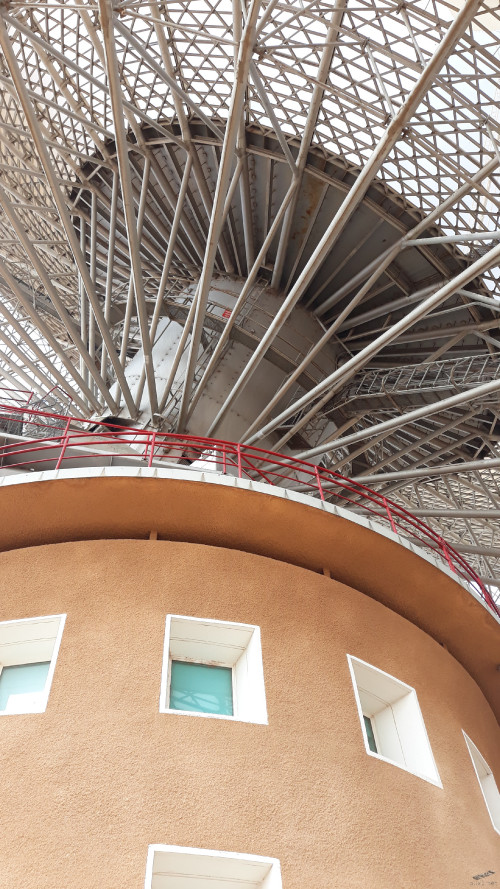 And then we were inside. The equipment photos were on the 3rd floor. Interestingly, they replaced all of this (which still works):
with this optic fibre equipment:
Also, the SETI folks rent space and and time for observations. The huge array of hard drives captures the data and they get packed up and shipped off for analysis.
We went up a tiny spiral staircase and then a ladder and found ourselves in the middle of the telescope structure. It was really dark and my camera struggled, but it was very cool. While we up there the telescope moved to a new position. The doorway in this picture is a ladder that takes you up onto the telescope surface (sadly we didn't get up there).
After the move, it was like this.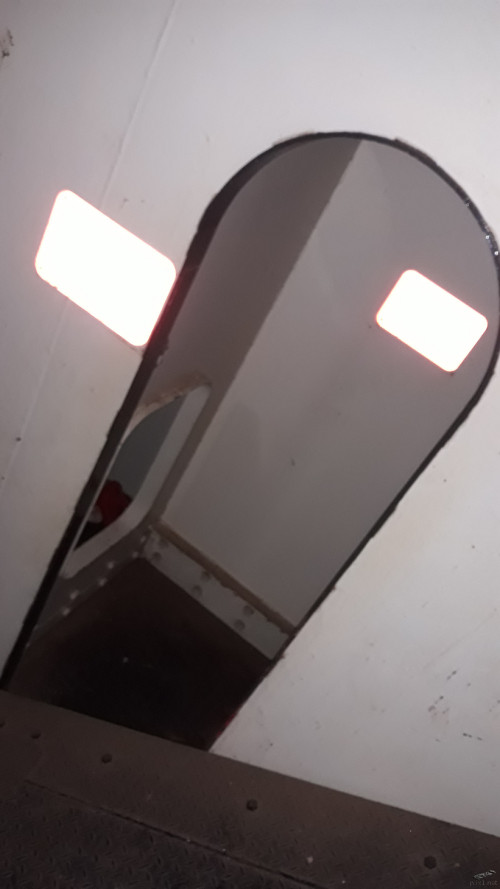 Back outside for a close look at "The Dish".
It pivots on this. As you'd expect, it was rotating (very slowly) the whole time.
And then we said goodbye to Parkes.
While down there, Kathy and I visited lots of touristy places - Old and New Parliement Houses, the War Memorial, The Royal Australian Mint, Canberra Deep Space Communication Complex, went west out to Echuca on the Murray River, Glenrowan, Albury/Wadonga, Wangaratta, Thredbo for a look at Mt Kosciuszko, and visited lots of (but never enough) craft breweries.
Anyway, I had a great time and may look into applying again for the end of this year as my project got cut short because of the fires and smoke. Still, I'm glad to be home.