I had been thinking about getting my L1 for a while, but definitely no plans to build an L2 machine!
But then I launched my L1 rocket, and as soon as the parachute opened I thought "L2 would be fun". So here we are on the slippery slope to bankruptcy.
So far the design looks a bit like this.
- Dual deploy with an electronics bay in the middle
- Drogue at the rear, main chute up front
- 4 big fins (aircraft grade plywood laminated with carbon - through the wall and probably fibre glassed to the motor mount)
- Short stubby plastic nose cone (with a cheap location device inside)
- 38mm motor mount
- Overall length around 1.6m
- Stability with a J motor is about 1.9
OpenRocket says it will fly to about 3,000 feet on a J motor. Which is more than high enough for me (double my current altitude record!).
Like my L1 Loc IV the airframe will be based on Loc Precision's 100mm tubing. It's strong, easy to work with and I can get my arm inside it.
The body tubes and nose cone are on the left with my Loc IV for scale. I will cut down the tubes, so the rocket won't be quite as long as shown here.
The tubes are almost certainly strong enough as they are, but I plan to reinforce them with some fibre glass sleeve.
I'll probably use the orange one with some orange pigment in the resin. If it looks good enough I won't paint it.
This will be my first rocket with dual deployment and my first rocket with electronic deployment. But I may try an electronic deployment in my Loc IV before I launch this.
For deployment I will decide between 2x Missile Works RRC2+ and a Public Missiles Co-Pilot.
I am favouring the 2x RRC2+ at the moment.
The first RRC2+ will deploy the drogue at apogee and then the main at 800 feet.
Back up for the drogue will be the motor ejection charge on the full 14 second delay.
The second RRC2+ will just deploy the main at 500 feet as a main back up.
It would be nice to use the second RRC2+ as back up for the drogue but the only deployment options are apogee or apogee +1 second. Drogue at apogee and back up drogue at apogee +1 second is not enough buffer for me. If OpenRocket is correct apogee will be at 10 seconds, so the 14 seconds motor delay will give a nice 4 second buffer before the back up fires.
For the main chute I'll use the 48 inch Bama chute from my Loc IV.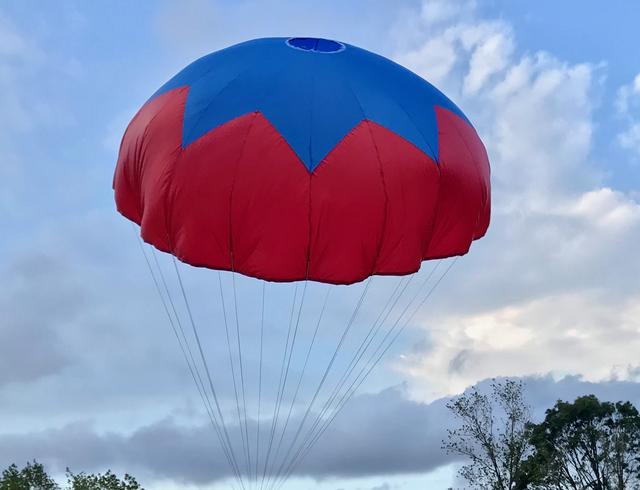 For the drogue I will use a 24 inch Droge-Osaurus from Dino Chutes.
This is by far the toughest chute I have seen. Looks bullet proof and the colours just happen to match the main chute.
Okay that's more than enough rambling from me. Now on with the build.